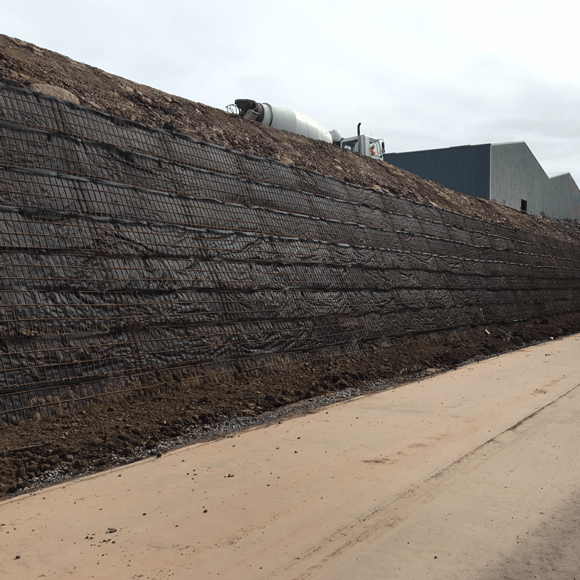 Curragh fas tre
Girvan, Skottland
Tensar's TensarTech GreenSlope system wasideal for building a steep and stable vegetated reinforced soil slope, to create more space at a whisky distillery on the west coast of Scotland.
Benefits
Delivering a 160m long up to 7.8m high reinforced soil slope
Enabling re-use of site-won fill
Maximising development space with a soft engineering finish
Client's Challenge
Contractor McLaughlin & Harvey needed to construct a reinforced soil slope along the edge of a raised construction platformbeing built on the sloping site, to create space for a new bonded warehouse. The slope had to be steep, to maximise the working area, with a vegetated finish.
Tensar Solution
Tensar proposed its TensarTech GreenSlope reinforced soil system to build the 70°, 160m long and up to 7.8m high slope. This robust, long-term solution provided sufficient support to the new warehouses and protected existing buildings at the toe of the slope, enabling the use ofsite-won fill and created a natural finish.