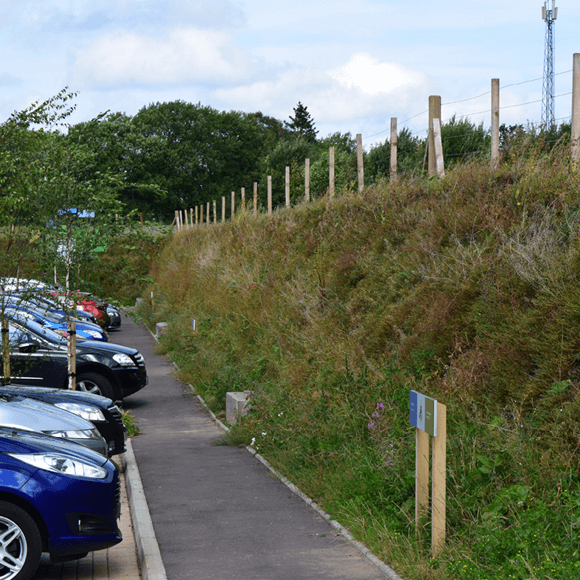 Eastwood hälsocentral
Glasgow, Storbritannien
Tensar's TensarTech GreenSlope system allowed low quality site-won fill to be used in a reinforced soil slope to maximise car parking for a new Glasgow health centre.
Benefits
Enabling the use of site-won fill in a reinforced soil slope
Allowing construction during challenging winter weather
Maximising development spacewith a soft-engineering finish
Client's Challenge
Morgan Sindall needed to build a 250m long, 3m high reinforced soil slope bounding the car park to Eastwood Health and Care Centre in Glasgow. Low quality cohesive fill, excavated from elsewhere on the site, was to be used to form the slope, which also had to have a natural, vegetated finish.
Tensar Solution
Tensar's TensarTech GreenSlope reinforced soil system enabled the 70° slope to be built over a very wet winter, which made handling the moisture-sensitive fill particularly challenging. A granular band behind the slope face provided temporary and permanent drainage, enabling all of the fill to be compacted to design requirements.