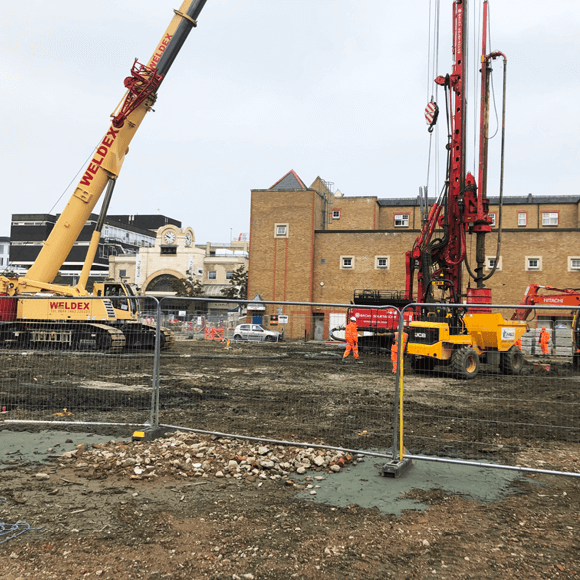 Marketfield Way
Redhill, Storbritannien
Tensar's T-Value design method delivered a pilingmat that was 33% thinner than the original design, cutting construction time and costs,with less environmental impact.
Benefits
33% thinner piling mat
20% savings in construction cost time savings
18% reduction in construction programme
Reduced carbon emission by around 240t CO2e
Client's Challenge
Vinci Construction UK needed to install a 5,000m2 piling mat for a development in Redhill town centre. The original design required excavating the underlying peat and weak clays to 1.2m and replacing them with recycled engineering fill, to create a safe working area at ground level. However, after attending a T-Value design method workshop, Vinci asked Tensar to see if savings could be made.
Tensar Solution
The T-Value design method analysed the full benefits of a Tensar mechanically stabilised layer using locally available demolition granular material designed to take project specific ground conditions and loading into account to provide a safe working platform for site operations. Tensar's proposal reduced fill volumes and excavation quantities, cutting installation costs by around 20%, the construction programme by approximately 18%. It also reduced the environmental impact by reducing carbon emissions by around 240t CO2.